DON'T DRINK THE KOOL AID !
---------------------------------------------------------------------------------------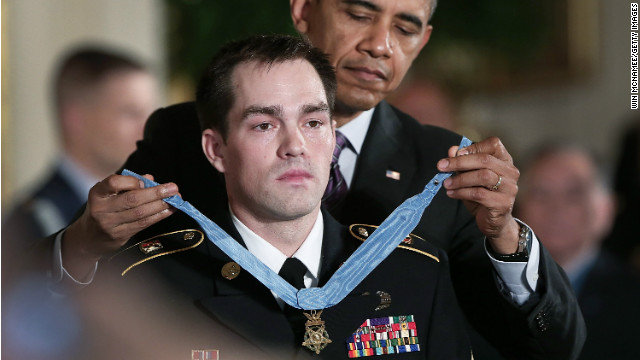 Clint Romesha, who was awarded the prestigious medal for uncommon valor in Afghanistan, told CNN that he has decided to spend the evening with friends from his former unit, Black Knight Troop, 3-61 CAV, his wife Tammy -- with whom he celebrates a wedding anniversary Tuesday -- and their families.
"It's such a great honor to be invited to the State of the Union," Romesha, 31, told CNN. "I really feel bad about not being able to go. But a lot of these guys I haven't seen a really long time and I'd like to hang with them just a little bit more."
Romesha said he also wants "to be there with the family, especially on the 13th wedding anniversary of me and Tammy," his high school sweetheart.
"I've done some soul searching," he said. "As much as a great honor it would be to be a guest of the first lady, it's also kind of hard to break away from the friends and the family and all the great guys here" from Black Knight Troop, who have come to Washington for the Medal of Honor events. "I just need to spend a little more time with them."